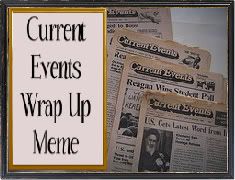 Thursday already?? Well most Thursdays I like to join the amazing Julie from
The Surrendered Scribe
for Current Events.
Today I wanted to share something I caught the end of during Good Morning America while I was getting ready for work. The only thing I remembered was the name.
Birthday Blessings
. I thought wow that sounds cool so I wanted to check it out. Of course I searched online and found their website. On their website this is their introduction:
Birthday Blessings began as a family outreach project in the fall of 2005, with a desire to bring happiness to underprivileged children while also providing a meaningful and hands-on service opportunity for our own young children. As we considered how we could work together to help make a difference in our community, we began thinking about homeless children and the sadness and emotional challenges they face. Knowing how important birthdays are to our family, we decided to help homeless children celebrate their birthdays; an idea built upon the hope that every child, no matter the circumstances, deserves an opportunity to feel the joy and value of being recognized on his or her special day. Today, with the help of numerous volunteers and supporters, Birthday Blessings continues to grow, bringing joy and support to hundreds of homeless children every month.
To date, Birthday Blessings has provided parties and presents for over 500 homeless children, celebrating with more than 2,000 underprivileged youth in our city.
Since November 2008, our Blessing Baskets program has provided a healthy and positive start to life for over twenty homeless babies.
What an awesome concept! I know how expensive birthday parties can be nowadays. This idea just really touched my heart. You can donate to this cause on their website.