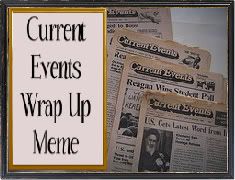 There are just so many things I could talk about. So many I want to cry about, gripe about, just how do you decide? Today I want to share two stories that just break my heart. I don't want to share these to bring you down, just to ask you to pray. There are so many demons having the time of their "lives" now adays. I know I am guilty of not stopping to pray for all the innocent children in the world who are born to parents who either can't or don't want to care for them. For the elderly who have no one to watch out for them. Some children are just caught in the middle of horrible circumstances and no one knows about it so they are not getting help. They need our prayers. Some elderly people may have isolated themselves for various different reasons and are cut off from family, or maybe just don't have any family. They need our prayers.
A father allegedly threw his four-year-old daughter off a bridge in front of the girl's two young brothers and scores of motorists during rush hour in Melbourne today.
Witnesses said Arthur Phillip Freeman, 35, suddenly stopped his family car – which also had his two young sons inside – and, with young Darcey Iris in his arms, walked to the side of the West Gate Bridge, just after 9 a.m.
He then allegedly dropped his young daughter over the railing and into the water, 190feet below. Freeman reportedly got back in the large white family Land Cruiser, and drove away.
Darcey miraculously survived the fall and was pulled from the water by police within 10 minutes and ambulance officers spent the next 50 minutes resuscitating her on the bank on the side of the Yarra River. Darcey died in hospital from massive internal injuries.
The family had been in the midst of a custody battle.
Yes being with Jesus is better than her circumstances but she has two brothers 7 and 2 who witnessed this and are still in the midst of the situation. They need our prayers.
BAY CITY, Michigan — When neighbors went inside Marvin Schur's house, the windows were frosted over, icicles hung from a faucet, and the 93-year-old World War II veteran lay dead on the bedroom floor in a winter jacket over four layers of clothing.
He froze to death — slowly and painfully, authorities say — days after the electric company installed a power-limiting device because of more than $1,000 in unpaid bills.
One of the saddest things of all was that Schur appeared to have plenty of money, and, in fact, one of the neighbors who entered the home reported seeing cash clipped to a pile of bills on the kitchen table. Schur's nephew suggested the old man's mind may have been slipping.
Schur, or "Mutts," was a retired foundry worker who lived alone, his wife having died a couple of years ago. The couple had no children. He could often be seen through the big front window of his comfortably furnished home of 50 or 60 years, watching TV or keeping an eye on his neighborhood.
Now the very sad thing about this story is it is being reported he had a nephew who may have known his mind may have been slipping. Why did he not check on him? Was he too busy? This is even more sad to me than the electric company not bothering to check on the situation. He paid his bill for 50 years with no problems and yet after 4 months of unpaid bills, they sent someone to the house to put a restrictive meter on the home but couldn't send someone to knock on the door to see if he was ok?! Seems he could have handed them the money had they done that. Yes I know they can not go door to door for everyone that does not pay the bills. However when the temperatures go that low, no one should have their heat turned off or restricted. Where is all the government bail out money for that?! They are spending millions to give people coupons so they can watch tv but what are they doing for people with no heat? I would like to know if there is such a fund.
The only good thing to come out of this:
The old man's sad end two weeks ago has led to outrage, soul-searching and a resolve never to let something like this happen again.
Now, let's see if any action follows.