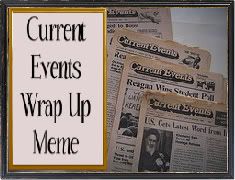 Today is Thursday, and that means Current Events at The Surrendered Scribe!
Today is also the National Day of Prayer. It has been since 1952. For those of you that don't want to do the math, that is 57 years.
57 years
...
However, for the first time in 9 years, the white house is choosing not to hold a ceremony. While this does not surprise me at all because of who our president is, it still makes me so sad.
Pray today for our country. Thank God for your blessings. Pray that you will be ready when he returns. Any time now...
Check out this 2 minute video. Make sure you are watching and listening to the very end.